Young adults in their 20s and 30s are invited to join the Portland Chapter of Young Catholic Professionals for our Executive Speaker Series.
We invite you to start the evening by joining us for Mass at 6 p.m. Starting at 7 p.m., enjoy free drinks and appetizers, a spiritual reflection, and fellowship with other Catholic young adults.
We are excited to welcome Ashley Micciche, co-owner and CEO of True North Retirement Advisors, to share advice from her own life and career, as well as some practical financial planning tips! The evening will conclude with time for Q & A, and some exciting YCP updates. We look forward to seeing you there!
About Our Executive Speaker: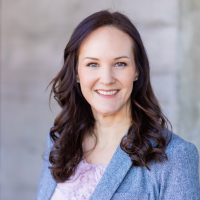 Ashley Micciche is the co-owner and CEO of True North Retirement Advisors, a family-owned independent financial advisory practice managing $340 million in client assets, and located just outside of Portland, Oregon.
As a Certified Exit Planner, she works with her business owner clients to secure their final and most important business decision – the exit from their business.
In addition to specializing in working with business owners, she loves to talk about retirement to anyone who will listen. She publishes a short-form, daily podcast called "Retirement Quick Tips" which currently has over 300,000 lifetime downloads, and is regularly interviewed on Portland's Mater Dei Radio.
Ashley is a Portland, Oregon native. She married her high school sweetheart, and they live in Happy Valley with their three children (with a 4th on the way, due January 2023), and one stubborn dachshund named Lucy.
Outside of family and work, Ashley enjoys golf and a good book!
Christ the King Catholic Church, 11709 SE Fuller Rd, Milwaukie, OR 97222